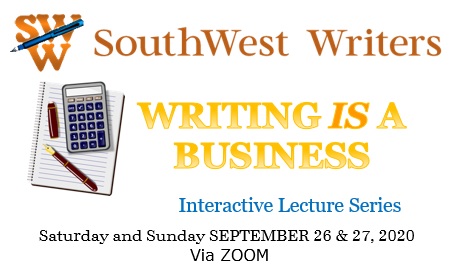 Anyone who wants to be a professional writer – whether for magazines, scripts, poetry or books – needs to know the logistics of their craft.   From how to set up an office to tax reporting, and copyrights, there is much to learn if you really want to succeed.
SouthWest Writers out of Albuquerque, New Mexico has set up a weekend of interactive lectures with people who really know the business.   Take a look at the line-up!
Saturday, September 26, 2020
9 am-10:15 am 
Gross Receipts and  NM State Sales Tax Questions: by
N.M. Taxation and Revenue (Dorian Johnson, Audit Bureau Chief)
10:45 am-11:30 am
Business Planning – Alexis Hassley, Owner of ABQ Rage Room)
noon-1:15pm
Keeping Track of Money & Filing Federal Taxes
(Brian Reinhardt, President-Mackie, Reid & Associates CPA)
2:30pm-3:45pm
Keeping Track of Your Business Expenses—PANEL
A Hands-on Approach (Gail Rubin, Cornelia Gamlem, Kirt Hickman)
 
4pm-5:15pm
Will and Estate Planning (Jim Plitz, Attorney)

Sunday, September 27, 2020

Noon-1:30pm
Planning a Home Office (Rob Spiegel)
2pm-3:30pm
Obtaining Copyrights, ISBN's and Barcodes
(Rose Marie Kern, Owner of RMK Publications)
You have questions – This group has the experts!
The lectures are reasonably priced and you can choose to go to one or all of them via Zoom from anywhere in the United States.      Click on the link below to the SouthWest Writers Website for more information.